SPARKLE Sliding Door Wardrobe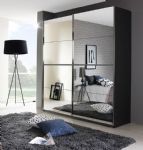 This SPARKLE sliding door wardrobe comes with unique mirror with central crystal glass band with chrome vertical uprights. Very Smart Indeed!!

Its 181cm Wide x 210cm High

Note: Shown in Grey for Illustration, Stock is White. Optional soft close mechanisms are £40 for a pair.

Its in stock now and with FREE DELIVERY & ASSEMBLY


Special Offer £550

Imola 200cm Sliding door robe with mirrors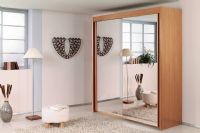 This Imola sliding door robe is 201cm wide x 223cm high x 65cm deep. It is offered in attractive Sonoma Oak colour with 2 mirror doors as shown We deliver and assemble this FREE OF CHARGE in our area. We have limited stock left at £699 all in!! SUPERB OFFER!! Ring Sliding doors Wales on 01656 657526 to order or call into our showroom to view on Bridgend Industrial Estate CF313RX. First come, first served!!
Special Offer £699

Austin Sliding door wardrobe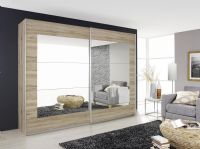 This super Austin Sliding door wardrobe is 226cm wide x 214cm high and comes with mirror/paneled doors. Offered in Sonoma oak with FREE DELIVERY & ASSEMBLY. (Delivery surcharges apply to certain areas) Was £799.
Available to view in our showroom. Great value at this price. IN STOCK NOW!!
Special Offer £595

Imola 250cm wide sliding door robe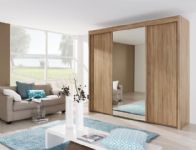 Buy this 250cm wide x 223cm high stunning sliding door robe with FREE DELIVERY ASSEMBLY. In Sonoma Oak finish with centre mirror door. 2 shelves & one rail in each compartment. (Delivery surcharges apply in certain areas.)
Was £899
Special Offer £799

Razor Wardrobe with LED lights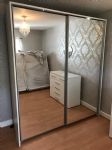 This stunning Razor wardrobe 189cm wide x 214cm high with 2 mirror doors and passpartout framed surround with LED lights with white surrounds. LIMITED

OFFER WITH FREE DELIVERY & ASSEMBLY!! (Delivery surcharges apply to certain areas) was £695
Special Offer £550

Made to Measure Sliding door wardrobe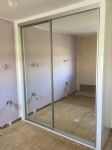 A fully fitted made to measure sliding door robe from only £1195!!
This Classic 2 mirror door robe made to measure and fitted by us with softclose doors and a 10 year guarantee FROM ONLY £1195!! (Prices vary according to your exact specification. Please call with sizes for your own price)
Special Offer £1195

3 Door fitted sliding door robe Made to Measure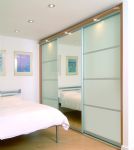 Our stunning Classic sliding door robes up to 3 metres wide fully fitted FROM ONLY £1795!! As shown with white glass doors and deco bars from £2075 fully fitted with a 10 year guarantee & softclose doors. (Lights extra cost dependent on specification)
Special Offer £1795